Square on Educational Square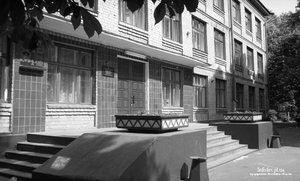 In 1920, between Vesela (now 1905 street) and Suvorovskaya (modern Sofievskaya), Alekseevskaya (now Shevchenko) and Priyutskaya (modern Gorky) streets on the former Training Square, which was equipped according to the plan of 1803 for military exercises and parades, a square was laid out. In its central part, in the late 1930s, a three-story building of secondary school No. 4 for 880 students was built, and the square, in fact, turned into a school.
During the German occupation of Kremenchug in 1941-1943, the school building was occupied by a military hospital. German soldiers who died from wounds were buried nearby, on the territory of the square. During the retreat, the invaders destroyed the school. Already in the post-war years, most of the territory of the former Educational Square, which was adjacent to the buildings of the shag factory (the block between the then Gorky, Krasin, Chapaev streets) was equipped with a new shag garden. It was planned to plant 2,000 trees and more than 500 linear meters of ornamental shrubs here. In the spring of 1949, work was carried out on the planning of the territory and its landscaping. Of the total planned plantings, most of them were also done in the spring. Later, in 1960-1962, secondary school No. 19 was built on the territory of the square.
Source: The book "Kremenchuk's Smaragdov Shati: History of Mysta in Parks and Public Gardens" 2016
Photo source: https://infolist.pl.ua