Transport tractor SdKfz 10 photo 1535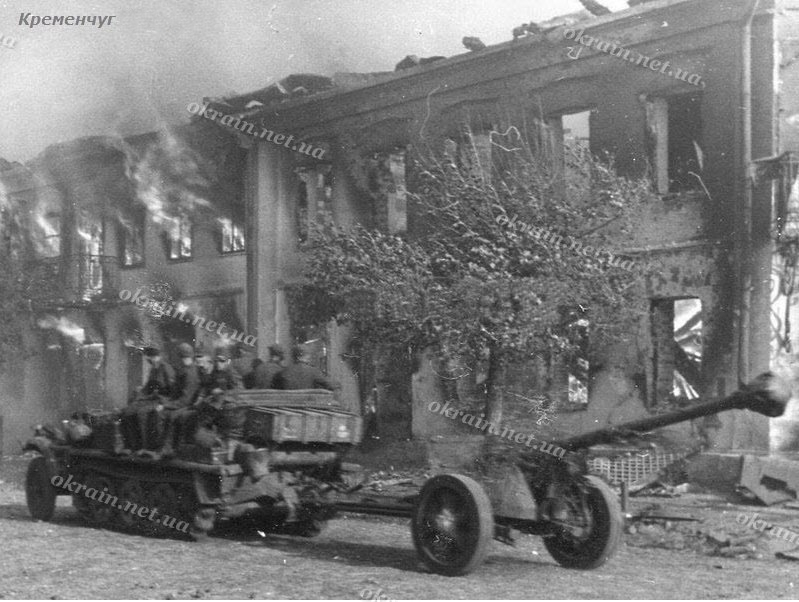 Date: 1943
Photo caption: Foto, Sdkfz, Geschutz, Ruckzug aus Krementschuk, Krementschug, Russland.
The half-track tractor Sd.Kfz.10 (Sonderkraftfahrzeug – special motorized vehicles) was widely used in all major battles of the Second World War. It was distinguished by excellent off-road patency and constantly confirmed its high all-terrain qualities on the Eastern Front, where in winter and autumn the roads turned into a real trap for wheeled vehicles.
In a word, the Demag Sd.Kfz.10 was an important element of the motorization of the Wehrmacht, performing a variety of tasks, including air defense of Luftwaffe field airfields. The tractor was built according to the layout scheme with a front engine, a front steered axle and a caterpillar instead of a rear axle.
The Sd.Kfz.10 artillery tractor was equipped with a Maybach HL42TUKRM six-cylinder liquid-cooled carburetor engine that developed a power of 73 6 kW at 2800 rpm. With a gross vehicle weight of 3.4 tons, the specific engine power was 21.65 kW / t. A transmission interacted with the engine, which included a Maybach Variorex VG 102 128H planetary gearbox, which provided forward movement at seven speeds and backward at three, a Fichtel und Saksmekano PF220K hydraulically controlled dry clutch, and an ATE brake system. /Perrot".
The power plant allowed the tractor to move along the highway with a maximum speed of 65 km / h. When driving on a paved road, fuel consumption was 40 liters per 100 km, and when driving off-road, it increased to 80 liters per 100 km. The cruising range with a full tank was 275 km.
Tactical and technical characteristics of Sd.Kfz.10:
Classification: Half-track all-terrain vehicle
Operating years: 1938–45
Constructor: Demag
Designed: 1934–38
Manufacturer: Demag, Adlerwerke, Bussing-NAG, MWC, MNH, MIAG, Saurerwerke
Production years: 1938–45
Total released: Approx. 14,000
Options: Sd.Kfz. 10/1, Sd.Kfz. 10/2, Sd.Kfz. 10/3, Sd.Kfz. 10/4, Sd.Kfz. 10/5
Characteristics
Weight, kg: 4900
Engine type and model: Maybach gasoline. 6-cylinder, water-cooled HL42 TRKM
Speed, km/h: 75 (on the highway)
Specific power, hp/t: 21.3
Engine power, hp: 100
Power reserve, km: 300 (on the highway); 150 (cross country)
Suspension: torsion bar
Length, mm: 4.75
Width, mm: 1.93
Height, mm: 2 (overall)
Crew (calculation): 2 + 6