Railway Garden "Sobriety Societies"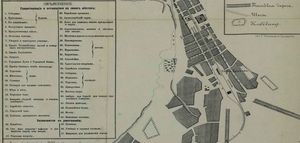 From the memoirs of V.S. Makarenko (A.S. Makarenko's brother), it is known that in 1910 a railway garden of the Sobriety Society was opened in Kryukov, which has not survived. The old abandoned garden on Khersonskaya Street, which was also called the "Gypsy Garden", was opposite the estate of the priest Fyodor Arkhangelsky (the territory of the modern Kryukovsky Park on Ivan Prikhodko Street), put in order.
Trees were cleared from thickets, paths were laid, electric lighting was installed, an open stage, a stage for the orchestra, a dance floor, and a buffet were built. Every Saturday and Sunday, festivities were organized, on the open stage, an amateur troupe played plays from the Ukrainian repertoire, for example, "Natalka-Poltavka". This garden was the first green public facility on the right bank of Kremenchug, intended for recreation and leisure of Kryukovites. This large green area is marked on the city plan of 1860.
Source: The book "Smaragdov Shati Kremenchuk: the history of the mist in parks and squares" 2016