Восстановление Крюковского моста немцами, Кременчуг ноябрь 1941 года – видео 857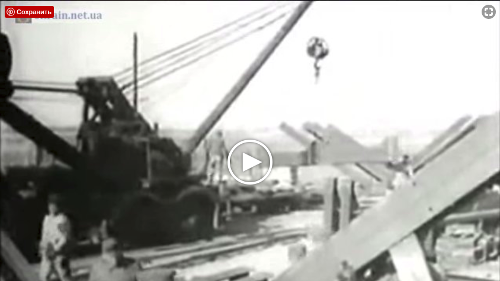 Видео предоставлено пользователем
fleetwood
на форуме
http://www.kremenchug.ua/forum/
Вырезан отрывок о Кременчуге.
Подпись к полному видео на немецком языке:
The "Deutsche Wochenschau" is a newsreel out of the Third Reich which has been produced from June 1940 until March 1945. Political, military, cultural and sporting events from Germany and foreign contries are shown.
—
Die Deutsche Wochenschau ist eine Wochenschau aus dem Dritten Reich, die von Juni 1940 bis Maerz 1945 produziert wurde. Es werden politische, militaerische, kulturelle und sportliche Ereignisse aus Deutschland und dem Ausland gezeigt.
—
Marschpause in Ostkarelien, Auszeichnung besonders bewaehrter finnischer Soldaten mit dem eisernen Kreuz, Kampf gegen bolschewistische Widerstandsnester. Ausbesserung von Bruecken im Raum um Leningrad, Nachschub von Nahrung und Wintersachen, Winterquartiere der Soldaten, Spaehtrupptaetigkeit. Auszeichnung verdienter Soldaten des Generaloberst Freiherr von Weichs. Angriff auf eine stark befestigte bolschewistische Stellung noerdlich von Moskau. Erbaermlicher Zustand der Strassen 100 km vor Moskau, Nachschub durch Flugzeuge. Zustand der Bauten der Zivilbevoelkerung in Charkow. Produktion und Lieferung der Frontzeitung. Wiederherstellung einer Eisenbahnbruecke ueber den Dnjepr durch deutsche Pioniere. Endlose Zuege von Gefangenen. Truppen- und Verletztentransport auf dem Dnjepr. Kampf um die Krim. Siegesparade der Odessakaempfer in Bukarest. General Rommel zeichnet verdiente Maenner des deutschen Afrikakorps aus, Ehrentag der Kameraden. Kampf an der Sollum-Front. Zerstoerer und Torpedoboote an der Kanalkueste. Angriff auf einen britischen Geleitzug durch die Luftwaffe.