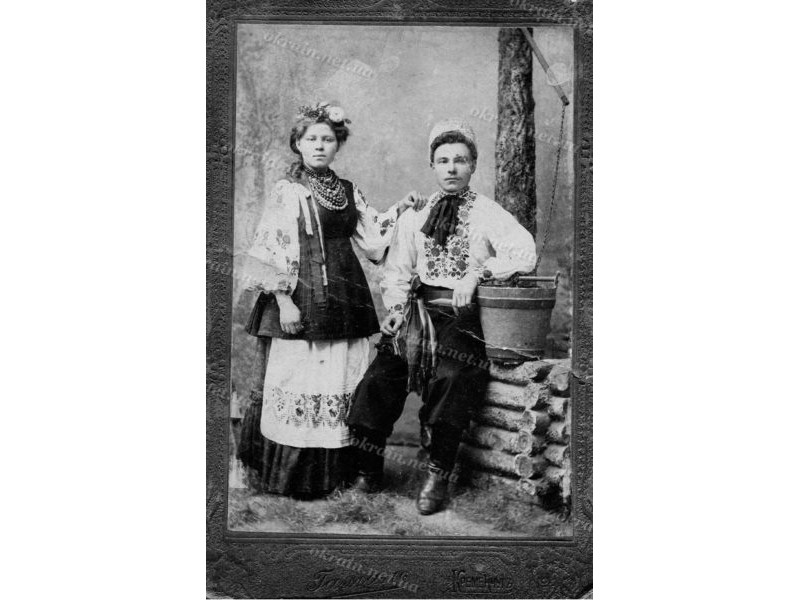 Belokon Kirill Makarovich with his sister Kremenchug photo number 1542
Belokon Kirill Makarovich (13.03.1885-15.04.1964) with his sister
Date: before 1917
Photographer Gamal Yufud (Fedor) Osipovich
Belokon Kirill Makarovich, 13 (18) .03.1885 year of birth, a native of Kremenchug, the son of a shoemaker, fought in Turkey in 1809 with the Turks, had a letter from Tsar Alexander. During one of the fights, the Turk cut off 2 phalanges of his fingers. He married the daughter of a Kremenchug nobleman Kochubey Ivan (1865-1941 (42)), who lived at Kremenchug, Poltavskaya Street 10 (now European 39). Kochubey Ivan and his wife Kochubey Nadezhda were rich people: they had trips in Kremenchug: in the warm season – wagons, in the cold season – sledges. They had their own coachmen. Kochubeev nobles had 3 daughters:
Kochubey Antonina Ivanovna (06.23.1893-08.05.1971),
Kochubey (Kravtsova) Daria Ivanovna ((03.30.1897-24.07.1977),
Kochubey (Fedorenko) Alexandra Ivanovna (April 20, 1909– July 16, 2003).
Very interesting is the story of the wedding of Kirill Makarovich with Ivan Kochubei's daughter – Antonina Ivanovna Kochubey. She is a noblewoman, with a gymnasium education, who had servants in the house, according to legends – she did not braid herself. I did not want to marry a rich groom, but fell in love at the age of 17 with the poor son of shoemaker Kirill Makarovich. Relatives were strongly opposed. And Antonina said that if they did not marry Kirill, then from the bridge into the water. She nevertheless married Kirill Makarovich, but for disobeying the will of her father, he deprived her of her fatherly blessing and deprived her dowry. And she was what she was, and went to live in the poor house of Kirill Makarovich. Having rolled up their sleeves, she started farming: there were a cow, a goat and other animals … She lived in love, happiness and harmony with Kirill Makarovich, bore him 5 children, four sons and a daughter Belokon Maria Kirillovna (Victor Pidorin's mother). Kirill Makarovich worked as a plasterer, Antonina Ivanovna was a housewife.
Photo provided by Victor Pidorin from personal archive