Знак Кременчугской общины сестер милосердия Красного Креста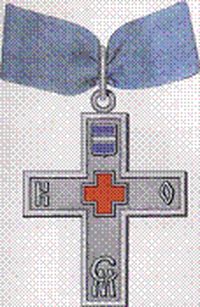 Утвержден 17 мая 1912 года
Серебряный, матовый прямой крест, в середине которого помещен прямой крест, покрытый эмалью красного цвета. На верхнем луче помещен щиток с эмалевым изображением герба города Кременчуга. На боковых лучах креста расположены славянские буквы К и О — Кременчугская община, а на нижнем луче расположены славянские буквы СМ — сестер милосердия.
На обратной стороне в центре помещена дата 1898 — год основания общины.
Высота знака 6.6 см, ширина знака 5.5 см.
Знак носился на шее на муаровой ленте голубого цвета.
Право ношения этого знака имели сестры, прослужившие в общине не менее 5 лет.
Badge of Red Cross commune of medical nurses at Kremenchug.
Silver straight mat cross, in the middle of which is placed a straight cross covered with red enamel. On the upper arm is a shield with an enamel image of the coat of arms of Kremenchug. The side arms of the cross bear the Slavonic letters К and О — Kremenchug commune. On the lower arm are the Slavonic letters CM — medical nurses.
In the centre of the reverse side is the date 1898 — the year of the foundation of the commune.
The height of the badge is 6,6 cm, its width is 5,5 cm.
The badge was worn on the neck on a moire blue ribbon.
The right to wear the badge was given to the nurses, who served in the commune no less than Ь years.
Источник: статья с сайта Коллекционер антиквариата goodcoins.su