Viktor Petrov and Ulas Samchuk Kremenchug 1942 photo number 2119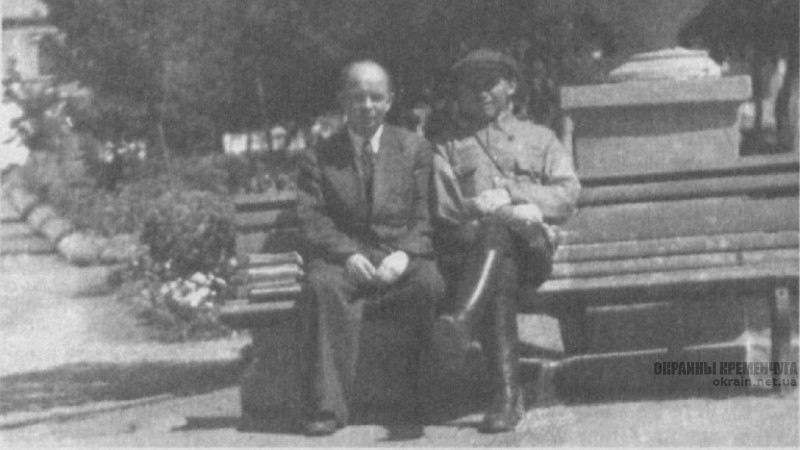 Date: July 1942
Place: Kremenchug
The photo is kept in the manuscript department of the Institute of Literature of the National Academy of Sciences of Ukraine
Source: Criticism
Help from Wikipedia:
Samchuk Ulas Alekseevich (born February 20, 1905, p. Derman, Volyn, now Zdolbunovsky district, Rivne region, Ukraine – died July 9, 1987, Toronto, Canada) – Ukrainian prose writer, journalist and publicist, collaborator with Nazi Germany. Samchuk's creativity was widely known in the Ukrainian diaspora, but only at the beginning of the XXI century began to return to Ukraine. In 1941, Samchuk arrived in Rovno as part of the OUN Campaign group (supporters of Andrei Melnik), which became the administrative center of the German Reichskommissariat Ukraine. He was the chief editor of the Volin newspaper until March 1942. Samchuk's publications were distinguished by a political orientation toward Nazi Germany, as the only ally of Ukraine. And the author himself in his publications pointed out that "the main enemy of the Ukrainian people is the Moscow-Yiddish Bolshevism." [2] After the publication of an overly emotional article "So it went, so be it" // Volin. – 1942. – Part 23. – March 22, 1942, regarded by the SD as anti-German, he was arrested, but was soon released on numerous petitions. After his release, he worked as a reporter at the Deutsches Nachrichtendienst agency (German news service).
Samchuk had a fairly wide circle of acquaintances in the occupation administration, made a number of trips throughout the territory of occupied Ukraine, the impressions of which he described in his publications. Many of his impressions from the times of occupation are described in the novels "What the Fire Cannot Cure" and "OST".

Petrov Viktor Platonovich (1894–1969) – Ukrainian writer, philosopher, social anthropologist, literary critic, archaeologist, philologist, ethnographer, historian and cultural scientist. Together with Valeryan Pidmogilny – one of the founders of the genre of the Ukrainian intellectual novel, as well as the romanized biography. In 1941, he was in the occupied by the Nazis Kharkov. In 1942-1943 published the literary magazine "Ukrainian sowing" ("Ukrainian Zasiv"). The issue of the magazine was carried out with the support of the information service "Stafel". Hitler's propaganda encouraged scientific research, justifying the "historical role" of the German people and the right to stay on the territory of Ukraine. To this end, Viktor Petrov was attracted to the opening of the Museum of Ancient History in Kiev.
From 1942, he visited many occupied cities – Sevastopol, Kiev, Kremenchug, and others. In Kiev, he collaborated with Oleg Olzhich, who highly appreciated the literary and scientific talent of Petrov, who was already acquainted with his father A. Oles. In 1943 he headed the Department of Ethnography of the Ukrainian Science Institute in Lviv. In 1944-1945 was a member of the Ukrainian Science Institute in Berlin, became one of the founders of the Art Ukrainian Movement (MUR). Ulas Samchuk wrote that Petrov in Berlin walked in the uniform of a German officer. Later it turned out that since the 1930s. he was associated with the NKVD and served in the enemy's rear intelligence mission, for which in 1965 he was awarded the Order of the Patriotic War, I degree.